On our page about the Yaeyama culinary delights, we wrote about Japan as a country for lovers of food, creativity and trends. There is so much to offer on health, traditions. For this reason alone Japan is already highly recommended.
The Yaeyama archipelago is one of these different faces of Japan. The tropical side. Which is reflected in the food. Have you ever heard about the 'Blue zone'? Okinawa and the Yaeyama islands once were called 'The land of immortals'. The women here live longer than any women on the planet. This has something to do with lifestyle and food. In the future we'll take you on our discoveries through the Yaeyama cuisine. For now a few examples to tickle your tastebuds.
Foodies paradise delights and fresher than fresh! Tropical Sushi.
Shrimps, special shells, tropical fishes, tuna, squid. All prepared and presented as pure as possible. This dish is prepared by the passionate chefs at Haimurubushi resort in Kohama island.
Fish tempura. Take-away fish, like the English fish & chips. In the Yaeyama archipelago traditionally the fisherman's wife fries battered whitefish or tuna and sells them in small stalls or shops, sometimes combined with an izakaya.
In the Yaeyama soba noodles are made of flour. Noodles are common food in Japan and they come in many varieties. From healthy buckwheat to flour, thick or thin, round or flat, chilled with a dip or hot in a mild soup made from dried tuna flakes and konbu seaweed (dashi) as in the picture. Mostly soba is served with soft slices of pork, spring onions and kamboko (a kind of fishcake). The Japanese cuisine isn't full of spicy herbs. But in the Yaeyama islands grow peppers, called pipachi, which you can add to your soba for a little extra spice.
Home made dragon fruit ice cream. Have you ever heard of that? The cactus fruit has a wonderful deep purple/pink colour.
This is the dragon fruit, harvested from the cactus in August and September. From the outside the fruit looks almost similar. But on the inside they can vary from white to dark purple. This one has white flesh.
Try delicious street food on festivals and events in the Yaeyama archipelago. From fried comfort food to creative, healthy bites. At the Hounensai festival in Kuroshima, one stall was selling this bento. A lunchbox, with food cooked from the heart! Inside the bento we found a delicious surprise of mixed black rise, Sea chicken (tuna) rice. A fried shrimp, a small pancake stuffed with benimo (purple sweet potato) and Japanese slightly sweet omelet.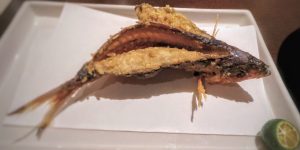 Fried Gurukun. A typical fish from the southern Yaeyama islands. We aren't used to it, but this fried fish we can devour completely. Crispy!
Zenzai. The name is pretty already. Bit the taste is even better. It's a sweet, red bean soup made of azuki beans and small mochi balls (sticky rice balls). If you visit Japan, you'll find out the Japanse are using azuki beans in many cookies and snacks. In the Yaeyama this soup is typically eaten cold. In other parts of Japan, Zenzai is eaten hot on special occasions and mainly in winter time.