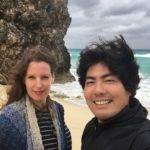 For travellers
We provide specific services to make your trip to Japan memorable. Let us know if you need any help: info@discoveryaima.com
Celeste has a degree in tourism and lives in Ishigaki for about 4 years. Manabu owned his own sea kayak tour company and has thorough knowledge about Okinawa. We have a network of hotels, designers, locals, friends, shops, tour companies and restaurants.
---
Travel consultant:
General consulting: ¥ 10.000 p/hour
Custom-made plan (reservations incl.):
We provide a custom plan and schedule for your trip in Okinawa.
1/2 day trip: ¥ 10.000
1 day trip: ¥ 15.000
Add. 1 day trip: ¥ 10.000
Week (7 days): ¥ 50.000
Reservation service:
We provide you a custom idea for lunch, dinner, a place to stay, etc.
1 custom idea + reservation: ¥ 3.000
---
Business-to-Business
For our company Pawana LLC. and Sakishima films we work with profit and non profit organisations (JTB, Ritz Carlton Tokyo / Osaka, Haimurubushi resort, Shigira resort, Natsupana, Ishigaki government e.g.).
Business research: Information on request
Film/video /drone support: Information on request
Location hunting/support (English, Dutch, Japanese): ¥ 60.000 p/day (8 hours)
Prices are an estimate/example. When we learn more about your specific request, we can give you a detailed offer. If there are any other questions, don't hesitate to reach out.