For many creatives, Tokyo is in their top 5 of must visits. And sometimes they make an extra flight to the Yaeyama islands. For the same reason I did once. To relax on a lovely beach after an impressive trip through Japan and to explore the other, tropical, side. For a while, we rented out our room in Ishigaki. Designers, artists, tech people, makers, foodies, architects, from all over the world, stayed in our house. They were the first Western travellers to visit Ishigaki. Which was pretty fun!
A TIME FOR EXPRESSION, A TIME TO ABSORB
If you're a creative, I think you'll agree that we share the same eager to learn, to be inspired. There is a time to express your creativity, as well as a time to absorb. New techniques, new views, ways of thinking, tools, anything that's connected to creative expression moves us. My heart beats faster when I see something creative I never saw before, especially when it's built on a long history. That moment that the story around it, made by people, nature and time, shows me its secrets, is magical.
LONG HISTORY OF ARTS & CRAFTS | crafts Ishigaki
Japan has a long history of arts & crafts. Climates vary, which means vegetation differences occur. As most of the ancient crafts (if not all) are made from local resources, crafts differ from each area. The Yaeyama islands are far away from main island Japan and as they are closer to Taiwan for example than to Japan, they have their own typical crafts and patterns based on their own island culture and natural resources. It's not a secret, that I feel very thankful of learning about these things as for one of few western people living on these islands. And to share this with you through our Dive in Tropical Japan project.

YACHIMUNKAN ISHIGAKI
The video in this post we shot in Yachimunkan.
Just outside the traditional village of Shiraho in a lush green vegetation, the owner started this project a long time ago. While starting up small, she grew to a large natural facility and shop where she sells work from artists & craftsmen, gives workshops and organises events. Most importantly: with and for the local community.
Local people have the opportunity to start as students/apprentices to learn the original Yaeyama crafts and become sellers themselves as the facility buys their work to sell in their shops. It's a never ending circle of learning, teaching and sharing the story, the history of local life.
Every effort to keep the traditional crafts alive.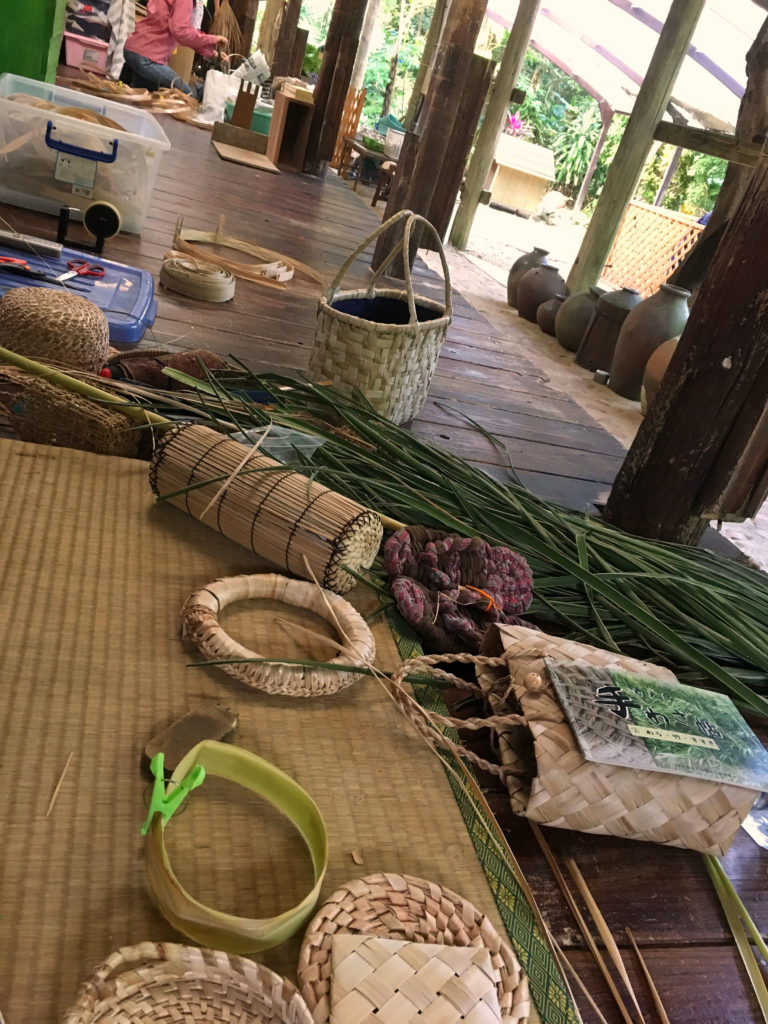 In this workshop we made a small basket woven with the local 'Gettou' leaf, which is a perennial of the ginger family and has a delicious fragrance.
And of course if you're visiting Ishigaki, it's possible to attend a craft class as well. Recommended!