ART IN ISHIGAKI ISLAND
You might not think of a vibrant art scene in tropical paradise Ishigaki in the first place.
I can acknowledge that. When I arrived here in ishigaki four years ago, my plan was to relax from the impressions of my three months trip through Japan. So thinking of a tropical hideaway somewhere in the South of Japan, made my tired body feel relaxed already. I love art but after travelling through impressive Japan my mind was already set to relax on a tropical beach. I didn't expect anything more.
A DREAM
Before I travelled to Ishigaki, there was basically no English information about the Yaeyama islands available. I had seen a few pictures but that's it. As soon as I arrived, I was shocked.
If you're planning to visit Ishigaki island, I recommend you to book a window seat. The reef, the colours of the ocean. It's just a dream. I was shocked by the beauty, the different beauty compared to main island Japan, the tropical colours, the relaxed atmosphere, the friendly people. And the heat (I arrived in June just after rain season, read about the seasons here).
ISHIGAKI ISLAND. ART & TROPICAL 
The Yaeyama islands have such a different look and feel compared to main island Japan. Japan is a country with a mysterious air around it. For travellers sometimes difficult to understand. For that Japan is also a country with lots of surprises and if you're open to it this is the place for you.
I couldn't imagine what was happening behind the traditional Yaeyama houses nestled in lush green with bananas in the garden and pineapple fields. The tropical sounds. Until Manabu showed me places on the island which I didn't expect at all.
POTTERS, INDIGO, KIMONO WEAVING AND SO ON
Art in Ishigaki is everywhere. There are many potters around the island for example. There is a large and popular pottery festival. Several crafts are practised like weaving with local plants, indigo dyeing, kimono weaving, and so on and so on. I'm still discovering and will share it with you. For Dive in Tropical Japan -Ishigaki island- we visited designer Yasutake Ikeshiro.
FASHION DESIGNER YASUTAKE IKESHIRO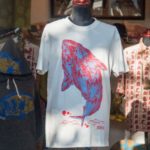 This is a video of Dive in Tropical Japan -Ishigaki island- about fashion designer Yasutake Ikeshiro. Yasutake was born in Ishigaki island. He's inspired by the magical surroundings of Ishigaki island. Ancient rooftops, fruits, ocean life and poetic moments of nature are featured in his stunning designs.
For more info about his store, visit Ichigusukumode.
Follow me & Manabu along, as we discover the Yaeyama islands.
Find the best 5 sightseeing spots in Ishigaki island.