This rather flat heart shaped island, is inhabited by around 200 people and 2500 cows. This is why Kuroshima is called cattle island.
Kuro from the sky is just gorgeous!
Although Kuro is a tropical island, it makes you think of the countryside in Northern Europe with its grasslands, fresh grass and grazing cattle.
CAFE ICONOMA 
Besides a few izakaya, we found Café Iconoma, a cozy lunch café. The Japanese owner lived in Paris for 10 years and decorated her café with accessories she brought from her travels alongside gorgeous pottery and jewellery from siblings. It's opened in the weekends from 12.00 o'clock.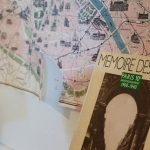 WHAT TO DO IN KURO ISLAND
The island is flat and it's main attractions are the free vibe and views. Therefore good to visit by bike. Bikes are rented from the small port. There is only one local supermarket and…many cows.
DIVING & SNORKELLING IN KURO ISLAND
When the wind is stronger, the South is characterised by ocean water splashing against the coral rocks. In the West, the beaches are long with white sand, most of the time deserted. Kuroshima is not an exception in great diving and snorkelling (Nakamoto beach).
On Kuro's beaches and mainly on Nishi no Hama beach several kinds of sea turtles lay their eggs. A small research center and museum shows the animals and organisms living in the ocean around Kuro (entrance: ¥500).
A special harvest festival, Hounensai, is held on Nishi no Hama every year.
HOW TO GO TO KUROSHIMA
From Ishigaki it takes about 35 minutes by ferry to Kuro island. Bikes are rented from the small port.
On Kuro island time seems to stand still