The story behind Penguin shokudo is famous in Ishigaki.
PENGUIN FUFU love story
The Penguin shokudo owners, she is Japanese, he's Chinese, fell in love years ago in Tokyo. The company where he was working for, became bankrupt and as a result he was jobless. One of their dreams was to go on holiday to Ishigaki. Every bad thing has a good side. He didn't have a job anymore, but time to go.
The beauty of the island made them fall in love with it right away and they decided to move here. Friendly and welcoming locals gave them local vegetables and other products.
As both of them like spending time in the kitchen, they experimented with all kinds of recipes. One was a spicy chili oil, which they started to sell on the local market.
This became a big disappointment. The oil didn't sell at all. Therefore they gave away all leftover oil to neighbours and friends in Tokyo. This was the best choice they could make. People in Tokyo loved their oil! Many orders followed. From this moment on the chili oil became a rising success! The couple opened a restaurant and curious customers were waiting in line to try their spicy oil.
As for the oil, they struggled with their international relationship as well. His Chinese background and difficult Japanese naturalisation rules, didn't make it easy for them to stay in Japan. But their perseverance won again. They changed their last name to 'Penguin', not only because they like the animals but most importantly because of their nature to stay together their whole life ♡.
Mrs. Penguin wrote an autobiography. Japanese TV found out about it and a movie was made called 'Penguin fufu' (Penguin family). Watch the short movie here:
RA-YU
The Japanese cuisine isn't spicy, however the Yaeyama archipelago is a limited exception. The local pipachi (a kind of pepper) is traditionally used for the spicy version of the local alcoholic beverage Awamori made of rice. The spicy Awamori is not for drinking. A dash is poured into Okinawa soba (noodle soup) for more spice.
Penguin Shokudo's spicy oil (ra-yu) doesn't look or taste like Awamori. It has similarities with the Indonesian Sambal badjak.
After this rising success and the opening of their restaurant, the Penguin's opened a shop with design products. It's located in the street behind the restaurant. Here is also the parking space (limited designated space) if you come by car.
MENU PENGUIN
The famous name discouraged us a little bit to go at first. We are not much attracted by following the crowd, more by unknown surprises. But after several years, waiting lines aren't there anymore.
The dishes on the menu all look tasty and colourful. However the amount of meat dishes predominate. A few small side dishes and a lunch plate are available for vegetarians.
Small cans on the table are filled with the famous homemade chili oil, black vinegar and garlic oil. This last one was a good match with the fried shrimps.
The catch of the day, a small cod, in asa (seaweed) broth and tofu.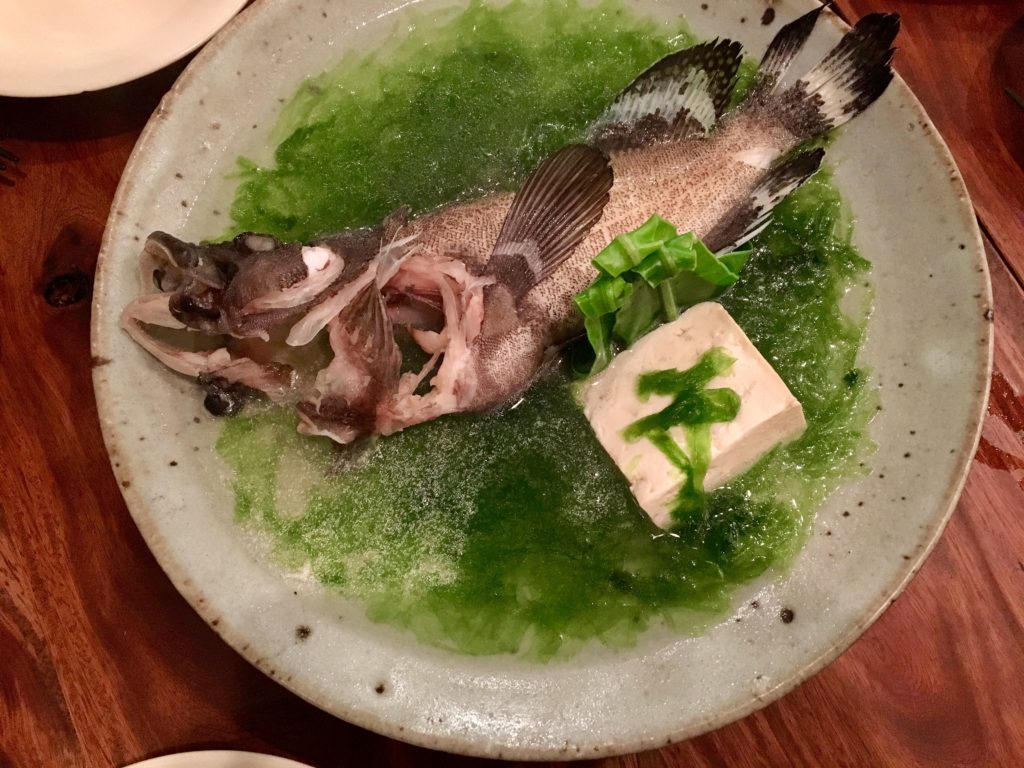 The last order was a spicy tofu dish, with mincemeat. Goes well with rice.
Their famous oil really marked this dish. Spicy!
CHINESE-JAPANESE
Penguin shokudo offers delicious food. Dishes with meat prevail here, but Japanese are masters in preparing vegetables and fish. The Chinese and Japanese background of the Penguins reflects their menu.
LOCAL INGREDIENTS
Like most of the restaurants in Japan and on the Yaeyama islands use local ingredients, this restaurant is not an exception. Thankfully.
Every dish is served on wonderful Japanese pottery.
]
PENGUIN SHOKUDO ISHIGAKI
Address: 日本, 〒907-0022 沖縄県石垣市大川288−5
Phone: 0980-88-7030

Lunch & dinner