Hiking in Ishigaki is paradise for nature lovers and for sports enthusiasts. Most of the trails aren't too difficult.
Hiring a guide is possible and can give you more insights, although not needed for most of the trails. A fresh morning walk, a challenging hike, exploring nature. Feel free what to expect from your walk. We'll try to show you the starting points and paths as best as we can. Signs aren't always clear enough and mostly in Japanese.
Please take the following precautions while hiking in Ishigaki:
Bring enough water and snacks
Rain/wind jacket/hat
Sunscreen
Wear good shoes and breathable clothes
A phone
(If you're planning to go without a guide, don't take any risk and return before sunset.)
Currently we provide information on Mape, Mount Omoto, Fukai Omoto dake and Kabira Terrace in Ishigakijima. We like to hike once in a while, aren't terribly experienced hikers (me), basically nature lovers. Maybe you could use this as a reference for your own experience and your trail.
For more inspiration:
The best 5 sightseeing spots in Ishigaki island
MOUNT MAPE 
Height: 282 m
Time: +/- 20 minutes to the top
Mount Nosoko Mape or Maapee is located more north on Ishigaki island and is a much shorter and easier trail than Mount Omoto. The view is wonderful!
From the top you have a view to all sides of the northern peninsula. Hiking in Ishigaki always gives us inspiration, we created a video and tell you the mythe behind Mount Mape:
The top of Mount Mape can be reached by taking a longer or a shorter hiking trail. For the shorter one, just drive up a bit more. We shared this start point on the map. Most of the visitors take the shorter path.
If it rained, be careful for the slippery parts.
Mount Mape is the best for its view, so make sure to go up when the weather is good.
---

MOUNT OMOTO
Height: 525 m
Time: +/- 1h 45m to the top

Mount Omoto is the highest mountain in Okinawa and a pretty challenging climb for not trained hikers (like me). From start to the top, the path is going up. With almost no straight part, uneven and narrow paths with rocks, Mount Omoto is a fun challenge and the view in the end is delightful.
REVEALING SECRETS IN ISHIGAKI
This mountain hike will appeal to people that like the protective feeling of forests. With it's revealing secrets, it tells you its story by every step you take. Have a short break once in a while, to notice wild flowers, sprouting new leaves and glimpses. Open up the senses, Ishigaki's fragrances will invite you to a world of tropical sounds and rustling trees. The path itself is the main thing on Mount Omoto. The view is a plus when the weather is clear.
We advise you not to hike up during the summer. It's too hot. The winter and spring (except for the rain season) are fine seasons for this.
IDEA: A small picknick on the highest top in Okinawa. Make sure to bring back all your waste.
Soft, flowery scents tickle. Is it the nature gods, the kami? Suddenly an opening appears in the green world on your right. Just fallen pink petals in front of it. A sacred place…
---
FUKAIOMOTODAKE
WATERFALL HIKE ISHIGAKI

Height: 430 m
Time: +/- 1 h 15 minutes to the top
This hike is a must if you love the magical lives of plants and waterfall glimpses. I would also call this the 'fern trail', because many different ferns accompanied us to the top, some only exist on the Yaeyama islands. Like this nicely shaped one.
A lot of plants in the island's forests are edible and delicious. Don't try yourself if you don't know what you're doing of course. You can taste them in local restaurants everywhere on the Yaeyama islands.
This trail takes half a day, included break, in the meantime sheltered by the tall trees. It's not so hard as the Omoto hiking trail. The path goes slowly up while nature shows you its best. Time flies when you climb up and you won't feel it in your legs as much.
Here and there lovely glimpses. Don't take this trail for the view though.
We would recommend to hike this trail at the end of February, beginning of March when it's dry weather. (Other months are, except during heavy rain, also fine)
Why?
Because of the stunning, flowering Sakura (cherryblossom) waiting for you at the top. You have to search a little bit and it depends a lot on the weather if the trees are in bloom or not at the time of your arrival. This is the only spot on the Yaeyama islands, for Sakura trees growing in the 'wild'. They have been planted here by Japanese soldiers to commemorate the war.
This might be the only mountain which is good for hiking in Ishigaki during warm weather. The hot and humid weather of the tropical Yaeyama islands makes you soggy and sweaty all day long and the only thing you want to do is to take a cold shower or….jump in the refreshing water. You can do this on top of the trail, or at the beginning near the small parking space.
WHERE TO START FUKAI OMOTODAKE TRAIL
The path misses good marking now and then, however this doesn't spoil the fun at all. Just start your trail at the left side of the small parking area (take the stairs). Keep left, walk up a little and you'll see a gate. Please close this when you pass. Just follow the path slightly straight up, with on your right side the water. We try to post a GPS map soon here as well.
---
KABIRA TERRACE
MOUNTAIN TRAIL
Height: 449 m
Time: +/- 1 h to the top
Kabira Bay is the most famous tourist spot on Ishigaki island. If you're making plans on hiking in Ishigaki, why not go up Kabira Terrace to have a stunning view of this whole Unesco bay?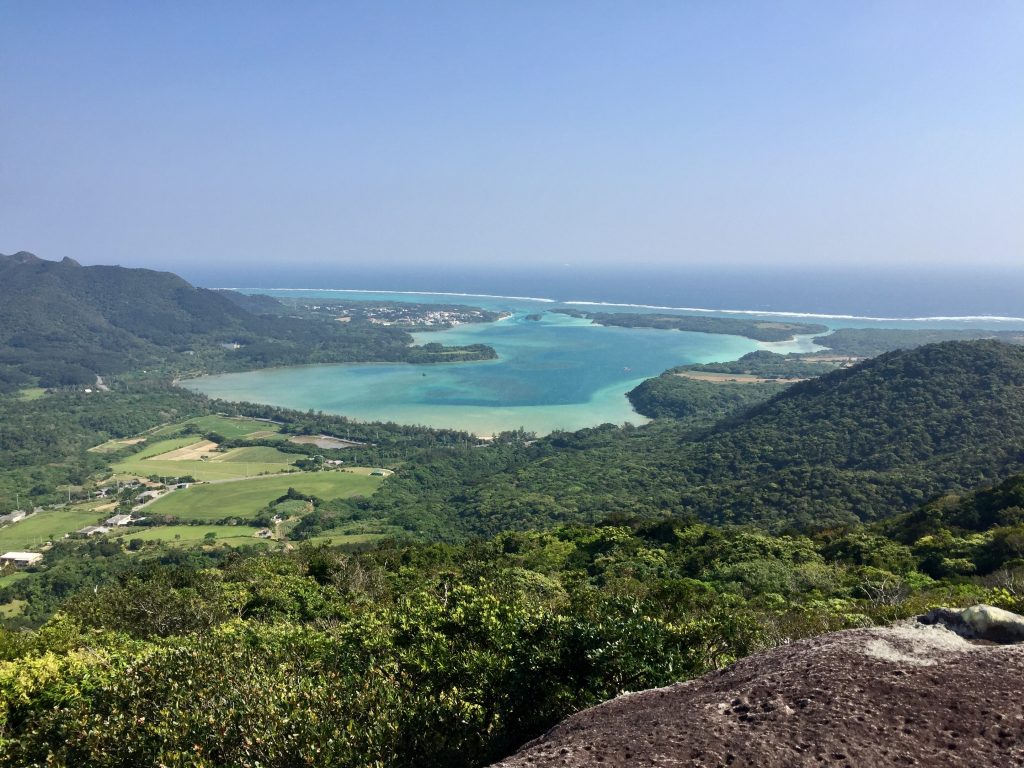 We hiked up the mountain to take a video for a new music video. The musician is playing the traditional music instrument Sanchin (this instrument has traditionally a snake skin cover).