Locals know where to go when it comes to farmers markets and where it's best for shopping. Sometimes it can be a bit difficult to find just te right place to go when you're not a local resident. Are you the kind of person, that likes to search for specialty stores, loves to try local fruit and never wants to miss a chance to visit farmers markets? For you we share these 'hidden' locations on the Yaeyama islands. To buy seasonal & local produce. To see what's growing here. To have an idea of local life. Most shops sell local pottery, craft or cookies as well. Good to bring some memories back home.
This post is ongoing, new shops will follow.
Farmers markets in Ishigaki
Karimata
The owner of this local shop is a cute ba chan (grandmother) and is popular among locals for their fresh vegetables. They usually open at 14.00 o'clock in the afternoon. Fresh vegetables are sold outside on the table, for ¥100 each.
Sunday morning market
On Sunday morning a tiny market takes place in the Yoshiwara community center, in the street behind Karimata shop.
AKAISHI VILLAGE
On the way up north to Hirakubo (renting a car comes in handy, or a road bike for a challenge) next to a huge pine tree, lies this small mostly wooden Yaeyama building with natural roofing. From time to time local sweets, fruits and veggies are sold here.
Try Sata andagi (Okinawa donuts), getto&lime-grass tea, beans, goya (these funny looking green bitter vegetables that look like cucumbers with bumps are full of antioxidants)…everything fresh and reasonably priced. (Around ¥100).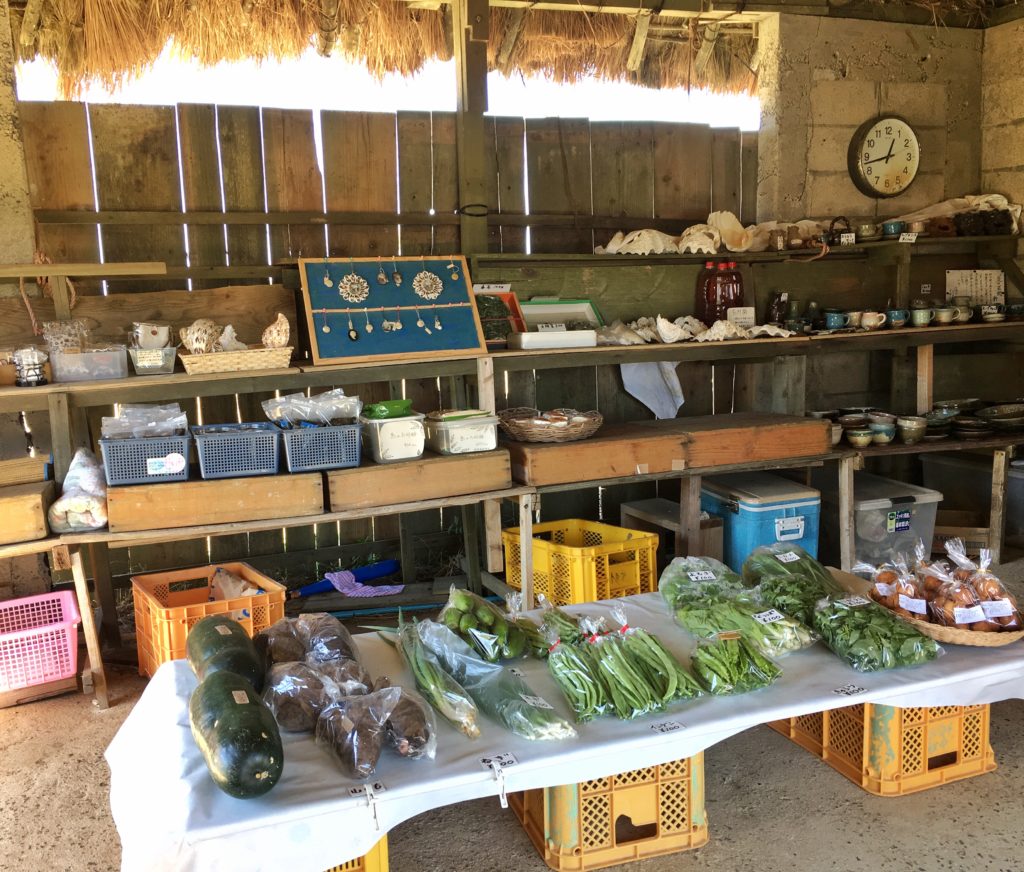 The sleepy village on the other side of the road has a few lunch restaurants, minshuku and a spot for kids to go horse back riding. The beach is worth a visit, especially during sunrise.
---
Ja farmers market | Jurateiku
This farmers market is favourite by locals for their large supply and variety of products. The prices are friendly most of the time. It's mainly Ishigaki produce, but a lot from farmers all over Japan as well. Prices and produce fluctuate along the seasons. Most of the Yaeyama vegetables grow in the winter (December-March), supply is higher and prices are lower than in other seasons. Most fruits are harvested during spring and summer, so prices and supply fluctuate accordingly. In general cheaper than the supermarket.
JA offers veggies and fruit, seeds, flowers, dairy as well as fruit, cake, bread, lunch boxes (bento), local milk and a selection of handmade souvenirs.